Jurassic World: Dominion Dominates Fandom Wikis - The Loop
Play Sound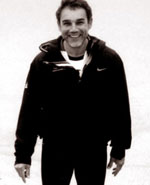 Dr. Nicholas S. Romanov was born in Novokuznetsk, Siberia, Russia (May 25, 1951) to a single mother Raisa Ivanovna Romanova.[1] He is most known as the creator of the Pose Method®.
Education
This entire section can be referenced by [1].
Romanov graduated with honors at the age of 23 from the faculty of Physical Education of Chuvash State Pedagogical University in Cheboksary. After spending a year in the Soviet Army service from 1974-75, he continued his professional career at Chuvash Pedagogical University as a teacher of Track and Field and as a coach for the University track and field team.
In 1979, he started post graduate studies at the Central Scientific Research Institute of Physical Culture in Moscow in the laboratory of the renowned Soviet Union sport scientist and coach, Professor, Vladimir Mikhailovich Diachkov. After receiving his Ph.D. in Physical Education from Russian Academy of Physical Culture and Sports in Moscow, Dr. Romanov advanced to become the Head of the Department of Sport Disciplines, Head Track and Field Coach, and senior lecturer of Sport Biomechanics, Theory and Practice of Physical Education and Sport Training, Theory and Practice of Track and Field.
The Pose Method
Romanov developed and successfully implemented the Pose Method® with his athletes in the mid-1970s.[1] The Pose Method enhances efficiency and performance in running, jumping and throwing (track and field), as well as in swimming, cycling, gymnastics, speed skating, cross-country skiing and many other athletic events.
Books
Published Works
Fletcher, G.; Korff, T.; Romer, R.; Brown, D.; Romanov, N; A Comparison of Pedaling Mechanics in Experienced Pose and Traditional Cyclists. 28 International Conference on Biomechanics in Sports (2010)
G. Fletcher, M. Dunn, N. Romanov. GRAVITY'S ROLE IN ACCELERATED RUNNING - A COMPARISON OF AN EXPERIENCED POSE® AND HEEL-TOE RUNNER. 27 International Conference on Biomechanics in Sports (2009), Limerick, Ireland.
Романов Н.С., Пьянзин А.И. Позный Метод Обучения Технике Спортивных Упражнений. Материалы Всеросcийской Научно-Практической Конференции «Состояние, Проблемы и Перспективы Внедрения Биотехнических Средств в Системы Подготовки и Реабилитации Спортсменов», Камская Госураственная Академия Физической Культуры, Спорта и Туризма, 11 Июня 2010г., Набережные Челны, стр.169-175.
Romanov N.S. Fitness in Our Life. In proceedings of the International Conference of Science and Practice «Актуальные Проблемы Совершенствования Физической Подготовленности Студенческой Молодёжи», Чебоксарский Институт Экономимки и Менеджмента, Чебоксары, 2010, стр.100-103.
Fletcher, G, Romanov, N.S. and Bartlett, R. M. (2008) Pose® method technique improves running performance without economy changes. International Journal of Sports Science & Coaching, 3, 365-380.
Fletcher, G. and Romanov, N.S. (2008) "Comments on 'Runners do not push off but fall forward via a gravitational torque" Sports Biomechanics, 7, 406 – 411.
Romanov, N.S. The Pose Method® of Triathlon Techniques, Pose Tech Press, May 2008
Nicholas Romanov, Ph.D.; Graham Fletcher, Ph.D; Runners do not push off the ground but fall forwards via a gravitational torque, SPORTS BIOMECHANICS, University College of the Fraser Valley, British Columbia, Abbotsford, Canada, September 2007
Romanov, N., Pyanzin, A.; GEOMETRY OF RUNNING., 11th annual Congress of the EUROPEAN COLLEGE OF SPORT SCIENCE (SWITZERLAND), July 5-8, 2006
Romanov, N.S. Training Essays, Volume 1, Pose Tech Press, 244 p. USA 2006
Romanov, N.S. The Pose Method of Running, Pose Tech Press, 316 p USA 2002, 2004
Romanov, N.S. Role of Gravity in Pedaling Technique in Cycling. Theory and Practice in Physical Culture., No.5, pp.17-21 Russia 2004
Arendse, R.E., T.D.Noakes, L.B.Azevedo, N.Romanov, M.P.Schwellnus, and G.Fletcher. Reduced Eccentric loading of the Knee with the Pose Running Method. Med. Sci. Sports Exerc., Vol.36, No.2, pp.272-277 USA 2004
Romanov, N.S. Pose Method Strength Conditioning Hamstring and Hips Exercises, Pose Tech Press, 68 p. USA 2002
Romanov, N.S. Pose Method of Running Companion Drill Book, Pose Tech Press, 25 p. USA 2002
Romanov, N.S. The Pose Method of Running. (1 hour) Educational Video, Reel Productions for Romanov Academy of Sports Science. USA 1997
Romanov, N.S. Raising Reliability Level of Elite High Jumpers' Performance at the Stage of Immediate Pre-Competition Preparation, Ph.D. Thesis, The State Central Institute of Physical Culture, Moscow, Russia, 189 p. Russia 1990
Romanov, N.S. The Pose Method of Teaching Running Technique. Russian Edition, 15p. Chuvash State University, Cheboksary, Russia. Russia 1988
Unpublished Works
Romanov, N.S. The Pose Method of Teaching Running Technique. English Edition, 14 p. (Unpublished manuscript submitted to the Library of Congress) USA 1994
Notes
References
External Links