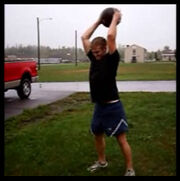 A medicine ball (also sometimes referred to as an exercise ball, fitness ball, mball, or med ball) is a ball used primarily in physical training, as opposed to being used in sport. This is because they are not filled with air, but some other impact-absorbing material (such as sand) and are usually made of leather, vinyl, or rubber.
Video Demo
[[Video:WBS & Double Unders|thumb|300px|left|Wall Ball Shots are another common way to use the medicine ball for a full-body exercise. Also demonstrated are double unders.]]
See Also
External Resources
Community content is available under
CC-BY-SA
unless otherwise noted.