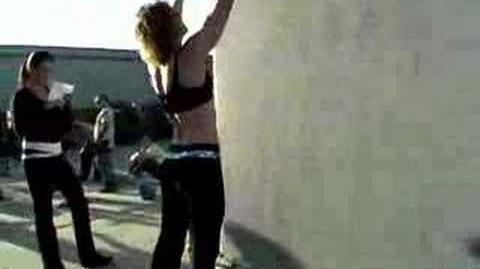 Fight Gone Bad is one of the CrossFit benchmark WODs. It was designed to simulate the time domain of a mixed martial arts bout of five minutes of work followed by one minute of rest. It has been used in 3 and 5 round versions. The workout first appeared on CrossFit.com on 1 December 2004, although a hint of the workout appeared as just a snapshot image on 7 October 2003. It was so named after BJ Penn, a professional mixed martial artist, remarked that it was like a "fight gone bad" when asked how it compared to a real fight.[1]
Fight Gone Bad is also a registered trademark of the Sportsgrants Foundation, a 501c3 nonprofit organization, as the official name of an athletic charitable fundraising event, produced by Sportsgrants annually, since 2006.
The Workout
In this workout you move from each of five stations after a minute. This is a five-minute round from which a one-minute break is allowed before repeating. We've used this in 3 and 5 round versions. The stations are:
The clock does not reset or stop between exercises. On call of "rotate," the athlete/s must move to next station immediately for good score. One point is given for each rep, except on the rower where each calorie is one point.
See Also
References
↑ CrossFit Hawaii (31 January 2009). Fight Gone Bad - The BJ Penn CrossFit Workout. HardassFitness.blogspot.com. Retrieved on 7 March, 2009.
[hide]v •d •eMore CrossFit
All CrossFit
CrossFit Journal · CrossFit Games · CrossFit Radio · CrossFit Certs · CrossFit Endurance · CrossFit Strength Bias · CrossFit Kids
CrossFit WODs
Workout of the Day · Girl WODs · Hero WODs · All Named WODs
CrossFit Veterans
Greg Glassman · Mike Burgener · Mark Rippetoe · Greg Amundson · Jeff R. Tucker .Eva Twadorkens . Annie Sakamoto
CrossFit Signature Moves
CrossFit Total · Thruster · Wallball Shots · Double Unders · Fran · Fight Gone Bad
Miscellaneous CrossFit
Operation Phoenix · CrossFit Firsts · Virtuosity
Read more
Community content is available under
CC-BY-SA
unless otherwise noted.